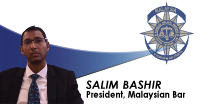 The Malaysian Bar refers to a letter published in Malaysiakini recently, titled "Law graduates unprepared for pupillage?"1
Just as legal skills evolve with the course of time, so too should its education and training. Traditional law schools must therefore provide a legal education that consists of crucial skills, such as creative solutions to solving legal problems, and a focus on both academic and practical training.
While the Malaysian Bar appreciates that a thorough and detailed knowledge of such practical skills can only be acquired during pupillage or while practising as lawyers, we are nevertheless of the view that the learning and understanding of such basic concepts must be inculcated during the legal education of law students during their tertiary education. Law school curricula must be tailored in such a way, to avoid merely regurgitating legal principles in examinations without actually understanding their practical applications.
However, it is neither true nor fair to simply assume that all public and private universities are producing below par law graduates. There are many law graduates who have demonstrated that they possess impeccable knowledge during their pupillage period. There are also law schools that have been proactive and demonstrated tremendous interest through their participation with stakeholders in the profession, such as the Bar Council, in guiding and mentoring their students. This sort of initiative is needed to produce and maintain a high standard of law graduates.
The Malaysian Bar also stresses that law graduates seeking pupillage should be aware of what awaits them as pupils and take note of the job requirements as pupils, besides being cognisant of the practice areas and the partners of the firms that they are seeking to join. Many experienced lawyers prefer pupillage applications that are tailored to their firms or specific areas of practice, instead of receiving template emails from law graduates that are sent to hundreds of firms. Such a blasé attitude would not likely yield a positive response from potential pupil masters.
Law schools might want to consider expanding their role by assisting students to get into suitable law firms — while an added responsibility for the law school, it is one that would provide students with a meaningful learning experience that suits their areas of interest for their pupillage. If law schools take on this additional responsibility, it is strongly advisable for them to establish strong rapport with law firms. This move would enhance and further equip students with the requisite skills when they enter the job market.
It is a misconception that senior law practitioners are not willing and able to devote their time to train pupils. Senior lawyers work under time constraints, and a nine-month pupillage is a short period of time. It may not be feasible to teach all the necessary basic skills to pupils that should have been acquired even prior to pupillage. The pupillage period is designed to hone and sharpen the existing legal skills acquired during pupils' education in law schools.
It is therefore essential that a pupil's legal education be fully utilised to prepare him/her for life as a practitioner. Law schools must satisfy both the academic needs and the minimum-skill requirements needed for a pupil to become a lawyer. Law faculties must take the approach to be industry-driven to source for relevant experts in various practice areas, to contribute to pupils' education.
Lastly, despite the impressive academic qualifications of the law schools' teaching staff, it is not sufficient to ensure that law students receive the requisite training they need. Lecturers must possess both substantive and procedural knowledge, as well as expertise, in the respective subjects that they are teaching, and must be able to stimulate effective delivery in the classroom in order to impart knowledge effectively. The focus should not be purely on the law students' academic qualifications. Law students must receive the necessary practical training even before entering into the legal profession, so that they can thrive.
Salim Bashir
President
Malaysian Bar
24 November 2020
---
1 "Law graduates unprepared for pupillage?" Malaysiakini, 20 November 2020.