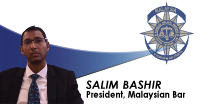 It was recently reported that the Attorney General's Chambers ("AGC") has decided not to charge Plantation Industries and Commodities Minister, YB Dato' Dr Mohd Khairuddin Aman Razali ("Minister Khairuddin") due to insufficient evidence. The reason cited was that he was not given the mandatory Form 14B requiring an Order for Surveillance and Observation ("Quarantine Order") as stipulated under section 15(1) of the Prevention and Control of Infectious Diseases Act 1988 (Act 342).
Under section 15(1) of Act 342, it is provided that "an authorized officer may order any contact to undergo observation in such place and for such period as he may think fit, or to undergo surveillance until he may be discharged without danger to the public."
Ever since air traffic into Malaysia was permitted again during the pandemic, the Government had decided that all individuals entering Malaysia from abroad would be subjected to a Quarantine Order. In light of the severity of the pandemic both at home and abroad, an individual does not only become a person under surveillance ("PUS") upon receiving a copy of Form 14B, but even when someone enters Malaysia from abroad.
If Minister Khairuddin is in fact exempted from a Quarantine Order, the authorities must be able to demonstrate what this exemption is, the absence of which would create a dangerous precedent that is arbitrary in nature. This is particularly pertinent since members of the general public are required to adhere strictly to standard operating procedures as well as Quarantine Orders during the pandemic.
The Malaysian Bar therefore calls on the Health Ministry to provide answers as to the reason why Form 14B was not provided to Minister Khairuddin, and why was he permitted to move about freely in public upon his return from Turkey. The public is entitled to know the reasons for his exemption from a Quarantine Order.
It is enshrined in Article 8(1) of the Federal Constitution that "all persons are equal before the law and entitled to the equal protection of the law". In times of great uncertainty as a result of the pandemic, leaders of a country should set a good example to its citizens. This is especially true if a minister is aware that a disease such as COVID-19 is life-threatening and highly transmissible, and he/she has a moral obligation to self-quarantine.
Section 269 of the Penal Code stipulates that "whoever unlawfully or negligently does any act which is, and which he knows or has reason to believe to be, likely to spread the infection of any disease dangerous to life", commits an offence. Perhaps the Attorney General could exercise his constitutional prerogative to reconsider his earlier decision based on the above-mentioned offence provided under the Penal Code.