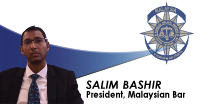 The Malaysian Bar takes note of the concluded decision of the Federal Court which marked the end of a protracted legal battle since 2009 by former Orang Asli settlers, whose Linggiu Valley Trust Fund consisting of compensation from the Johore Government amounting to RM 38.5 million was misused, mismanaged and misappropriated by their former lawyers. The appropriated monies were then used to purchase 57 units of apartments.1, 2
The Malaysian Bar will not tolerate any dishonest and recalcitrant practices that will inevitably tarnish the good name of the profession, and takes matters relating to the integrity of the legal profession very seriously. The Malaysian Bar wishes to ensure the public that the vast majority of its Members are hardworking, highly professional and ethical individuals who abide by high standards of integrity.
There are mechanisms in place where complaints can be made against lawyers by aggrieved members of the public. The Advocates and Solicitors Disciplinary Board ("ASDB") is entrusted with the responsibility of investigating complaints against lawyers in relation to professional misconduct.

Salim Bashir
President
Malaysian Bar
26 August 2020
---
1 "An Orang Asli tribe was cheated by a lawyer, who used their money to buy 57 apartments", AskLegal website, 24 August 2020.
2 "Orang Asli win long legal battle to get back RM32 mil, 57 apartments", Free Malaysia Today, 21 August 2020.