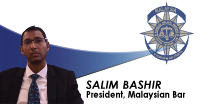 This item has been updated since initial publication.*
It was reported recently that a client of the Bar Council's Legal Aid Centre ("LAC") who had been awarded RM10,000 in costs by the Courts had only received a final figure of RM1,193 from the LAC.1 As a background to this case, Madam Lam Kun Tai ("Madam Lam"), an odd job worker whose husband had passed away, had successfully obtained an award from the Social Security Organisation ("SOCSO") Board. This decision was challenged by SOCSO by way of an appeal to the High Court and thereon to the Court of Appeal. Both appeals were dismissed, with costs of RM10,000 awarded to Madam Lam. This is in addition to the 100% SOCSO award (an undisclosed amount) that Madam Lam is entitled to after winning the case. Costs are awarded to the winning party of a lawsuit to recoup their expenses when bringing or defending a legal action.
Pursuant to the policy and guidelines issued by the National Legal Aid Committee ("NLAC") that handles the administration of legal aid centres in our country, the LAC is entitled to "receive, in consideration of the services rendered by it, any fee or disbursement or contribution from the aided person, or such payment of costs as may be awarded to the aided person, based on the rules and directions of the Bar Council." This means that based on the current mechanism, any costs that are awarded by the Court would be assigned back to the LAC (the LAC had provided Madam Lam with the lawyer who handled her case without legal fees). This clause is very clearly stipulated in the letter of undertaking that every client of the LAC must sign prior to receiving legal aid. Such conditions are made aware in advance so that clients understand their rights and responsibilities. In the case of Madam Lam, she was indeed provided a letter of undertaking which she had duly signed and acknowledged the conditions therein.
In Madam Lam's case, the LAC had reimbursed her with RM1,193, which were the expenses for photocopying and filing. The Malaysian Bar has always taken the view that legal aid fundamentally pertains to one's access to justice, and this is a right that should be afforded to every individual, irrespective of their financial or social status. The Bar Council Legal Aid Scheme was established to protect and assist the public in legal matters, and to provide legal representation to impecunious persons. The costs received by the LAC is used to fund future legal aid matters. This is in addition to the annual payment made by every Member of the Bar to the legal aid fund. Lawyers take on these cases on a pro bono basis where they do not receive any legal fees for their services.
The Malaysian Bar would like to state that all our policies and guidelines are issued with diligent care and we are aware of our obligations to provide access to justice to anyone who is unable to afford legal representation. The public should rest assured that our policies are not meant to short-change any of our clients, or for lawyers to earn a profit from undertaking legal aid cases. All legal aid clients are welcome to discuss and seek an explanation from the LAC and to make informed decisions before making any engagements. The Malaysian Bar wishes to assure the public that we will review any policy that impedes access or denies justice to anyone in our quest to achieve our objective of justice for all.
Salim Bashir
President
Malaysian Bar
18 February 2021 (amended on 19 February 2021)
---
1 "Odd-job worker goes to legal aid centre for help, but ends up feeling shortchanged", Free Malaysia Today, 18 February 2021.
* Editor's note (19 February 2021):
(1) The following words have been added to the first paragraph:
This is in addition to the 100% SOCSO award (an undisclosed amount) that Madam Lam is entitled to after winning the case.
(2) The following words have been added to the second paragraph:
(the LAC had provided Madam Lam with the lawyer who handled her case without legal fees)