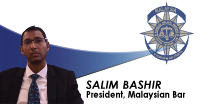 The Malaysian Bar views with grave concern the Government's efforts to deport 1,200 people back to Myanmar tomorrow (23 February 2021) on navy ships supplied by the Myanmar military.
This act of repatriation is even more worrying as it was reported by Amnesty International on 18 February 2021 that the United Nations High Commission for Refugees ("UNHCR") which had attempted to visit immigration centres to verify the status of these Myanmar nationals and to identify asylum seekers and refugees, had been denied access since August 2019.1 Malaysia has vowed not to deport Rohingya Muslims or refugees registered with the UNHCR, however such concerns are not alleviated if the UNHCR is not permitted to interview these individuals.
The Malaysian Bar is concerned that the act of repatriation is occurring during a period when Myanmar is faced with a tumultuous political landscape, and this violates the customary international law principle of non-refoulement — a key legal principle that prohibits the return of individuals to their home country where they would potentially face torture, cruel, inhuman or degrading treatment or punishment, or other irreparable harm. Such actions will be perceived to undermine our commitment to ratify international instruments on human rights.
Further, the latest military coup in Myanmar is an affront to the rule of law and democracy, and its return to a dictatorial and military regime is a threat to the security and livelihood of its citizens. In light of this precarious situation, the Malaysian Bar strongly urges the Government of Malaysia to immediately halt the involuntary repatriation of Myanmar detainees and to allow UNHCR access to all detainees scheduled for deportation. We call on the Government to uphold the rules and customs of international law as well as provisions of Malaysian law. These detainees form a vulnerable and defenceless part of our community, and as a modern and civilised country that abides by the rule of law, we must do our part to ensure that refugees and asylum seekers are shielded from harm.
Salim Bashir
President
Malaysian Bar
22 February 2021
_______________________________
1"Malaysia: Deportation to Myanmar puts lives in danger", Amnesty International, 18 February 2021.