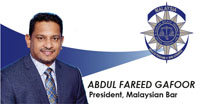 Badan Peguam Malaysia bimbang dengan pandangan kerajaan Negeri Selangor mengenai hak tanah dan sumber Orang Asli berhubung dengan cadangan untuk mengeluarkan sekitar 930 hektar tanah yang terletak di dalam Hutan Simpan Kuala Langat Utara ("HSKLU").1
Menteri Besar Selangor ("MB") dilaporkan telah menyatakan bahawa rekod kerajaan negeri menunjukkan bahawa "hanya" terdapat kawasan rayau untuk Orang Asli di dalam kawasan HSKLU. Walau bagaimanapun, penelitian FMS Government Gazette Notification No 2578 yang bertarikh 19 April 1927 mengenai pewartaaan HSKLU ("warta HSKLU") mendedahkan bahawa kerajaan kolonial Selangor telah dengan nyatanya mengakui hak dan menyerahkan keistimewaan kepada Orang Asli Bukit Prah, Pulau Kempas dan Bukit Kemandol, berkenaan tempat tinggal dan penggunaan HSKLU oleh Orang Asli tersebut.
Pengakuan dan konsesi rasmi yang terkandung di dalam warta HSKLU tersebut merupakan dokumen yang kukuh mengenai sejarah penghunian, tempat tinggal dan penggunaan kawasan tersebut oleh masyarakat Orang Asli. Senario ini berpotensi untuk menimbulkan hak common law yang boleh dikuatkuasakan untuk keturunan Orang Asli yang dijelaskan di dalam warta HSKLU yang masih menghuni atau menggunakan kawasan tersebut.
Adalah menjadi suatu kesilapan dari segi undang-undang untuk MB menganggap bahawa tanah yang terletak di dalam kawasan HSKLU yang dituntut oleh Orang Asli berkenaan hanyalah tempat mencari makan atau kawasan "rayau" yang tidak mempunyai sebarang kepentingan undang-undang. Selama lebih daripada dua dekad, mahkamah tertinggi di Malaysia telah mengiktiraf hak kawasan mencari makan dan hasil hutan adat Orang Asli sebagai suatu hak terhadap harta yang dilindungi di sisi undang-undang di bawah common law dan perkara 13 Perlembagaan Persekutuan (sebagai contoh, lihat Adong Bin Kuwau v Kerajaan Negeri Johor [1997] 1 MLJ 418).
Selaras dengan kewajipan fidusiari kerajaan negeri terhadap Orang Asli berkenaan dengan hak tanah adat mereka (lihat Kerajaan Negeri Selangor v Sagong Bin Tasi [2005] 6 MLJ 289], Badan Peguam Malaysia dengan tegasnya menggesa kerajaan negeri Selangor untuk berunding dengan komuniti Orang Asli yang berkaitan untuk menentukan kesemua hak mereka di dalam HSKLU, termasuklah hak common law, sebelum mempertimbangkan kuasanya untuk mengeluarkan tanah berkenaan darpada HSKLU. Setelah membuat penentuan tersebut, Badan Peguam Malaysia meminta supaya kerajaan Selangor mencapai satu penyelesaian saksama pertikaian ini yang tidak akan mencabul hak undang-undang komuniti Orang Asli yang terlibat. Kegagalan untuk berbuat demikian membawa risiko litigasi berpanjangan, perbelanjaan dan merosakkan reputasi negeri.
Malangnya, pertikaian HSKLU sekali lagi adalah kesan keengganan kerajaan Persekutuan dan Negeri untuk mengiktiraf hak Orang Asli di sisi undang-undang untuk terus hidup dan bergantung hidup di atas tanah pusaka mereka.
Oleh yang demikian, Badan Peguam Malaysia mengulangi seruannya kepada kerajaan Persekutuan dan Negeri untuk mengambil tindakan berikut:
(1) Sebagai tindakan interim, mengenakan suatu moratorium ke atas pewujudan kepentingan terhadap mana-mana tanah dan sumber, dan ke atas penerusan pengeluaran sumber dan aktiviti penguatkuasaan di dalam kawasan yang didakwa sebagai kawasan adat Orang Asli, sementara menunggu penyelesaian tuntutan kawasan adat komuniti Orang Asli yang terjejas;
(2) Melaksanakan 18 syor yang terkandung di dalam Laporan Inkuiri Nasional Mengenai Hak Tanah Orang Asli/Asal di Malaysia 2013 oleh SUHAKAM,2 dan
(3) Melalui perundingan dan kerjasama dengan masyarakat Orang Asli, mengambil semua langkah yang berpatutan, termasuklah tindakan perundangan, untuk mencapai semangat dan niat Deklarasi Pertubuhan Bangsa-Bangsa Bersatu mengenai Hak Orang Asli 2007 (United Nations Declaration on the Rights of Indigenous Peoples 2007).
Abdul Fareed Abdul Gafoor